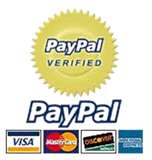 Copyright © 1993-2019 CFM Performance. All Rights Reserved.

Polaris Ranger 500 ETX 570 Mid Size Aluminum Intake Air Box $169.95

All CFM Performance products are proudly Made In USA.

Will fit 2015-2018 Ranger 500 and Ranger 500 ETX.

Will fit any year Polaris Ranger 570 Mid Size.

Made from the highest quality materials including 0.083" 5052 series aluminum and stainless steel hardware.

Comes with everything you need. No extra items to buy. No modifications are required. Install in about 30 minutes with basic hand tools.

This air box uses a 4" I.D. filter that is clamped to a heavy duty aluminum ring.

Does not come with a filter. Uses UNI filter NU-4102ST or K&N filter part number HA-4250.