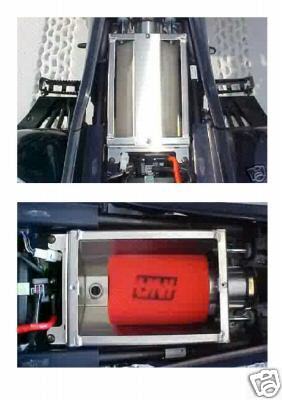 Yamaha Raptor 350 Air Box  $199.95

All CFM Performance products are proudly Made In USA.

New CFM Performance aluminum air box for any year Yamaha Raptor 350.

This high flow air box allows your motor to breathe much better without sacrificing engine protection.

Not only does our air box protect your engine from mud and water as good as the stock air box but it allows for 35% more air flow.

As we all know, more air flow equals more horsepower.

We have seen an increase of 4-6 horsepower on our Yamaha just by installing this air box.

Have you ever wondered if your filter was seated properly? With the CFM Performance high performance air box this is no longer a problem. Not only does our air box flow better, but it is designed to use a clamp on air filter. What does this mean? You will know without a doubt that your filter is installed properly.

Does not come with a filter. 

Uses UNI filter part number UP6275 and K&N filter part number HA-3094

Other unique features include the ability to remove the lid for even better performance.

We have also incorporated provisions to use the stock drain boot and crankcase vent attachment.

This air box is the best investment you can make in your ATV.

Copyright © 1993-2021 CFM Performance. All Rights Reserved.